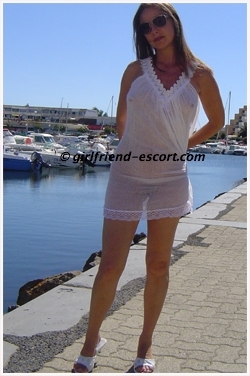 "Serendipity is look for something, find something else, and realize that what you have found is more suited to your needs than what you thought you were looking for."
- Lawrence Block -

FREQUENTLY ASKED QUESTIONS ABOUT MY PERSONAL SERVICES

What does the word "escort" exactly mean?
A social companion. An educated person who accompanies you on certain occasions and locations.
Please do not confuse this with a "call girl" or such, who is solely a sex provider.
Why do you escorting?
Simply because I am loving it! Of course I enjoy something I am accomplished at. :) I am just a perfect companion type of a person who can escort you for any kind of activities anywhere in the world.
I provide a complete experience by focusing all my talents on you, thereby as a sexy Goddess I am also channelling energies.
Are you independent?
Yes I am. I do everything myself (including advertising and the webmaster work).
What is the advantage of using your service rather than agencies?
1) According to international law, mediation between a service provider and the client is illegal in this area of work.
2) The agencies policy is quantity by concentrating on the profit, whilst I enjoy providing quality.
3) They have a lot of girls but you can never be sure what you will get... ;)
4) You have the advantage of a trustworthy guarantee with me that our companionship will be confidential, discreet, personal and memorable.
Do you also have another job?
If I did, I would not be able to give you my full attention.
Escort girls who have other jobs on the side, can't dedicate their full time to you, can not provide a perfect service.
You are available all the time. Don't you have private life or holiday?
I dedicate myself and my time to you. I want to be available anytime you need me because that's what I really enjoy. As I'm my own boss, when I have no dates, I have ample time for my private life to plan as I like it. ;) And actually I`m always on vacation. :)
Are the details given on this website accurate?
Of course. If I were to lie, I could not profit from it but would lose my good reputation. One of my clients said about this subject: "When you describe yourself, everything is true but one can only believe if knows you." Another said:"You are everything you claimed on your site, even more!"
Are the pictures really of you?
Most definitely. Who and what do you see here is what you will get. :)
I am believing in being honest and see no benefit in trying to mislead you.
Why don't you show your face clearly?
It's simply a case of discretion, both mine and yours. I accompany also international dignitaries and celebrities.
Neither they, nor you want to be seen with a lady whose face is displayed in public.

Can you tell me your real name?
Yes, I will certainly do it in time.
May I ask your age?
Does it count?! Age is only a number, it's all in the mind. It isn't a top secret although a Gentleman would never ask a Lady. :)
And if it is so important to you, have a look at my photographs. ;)

How do you describe your ideal partner?
A Man who wants to be exactly with me and not just needs somebody. He is generous, understands a Lady and affords a mutual rewarding date. He is an intelligent, fun loving professional with a sense of humour. I only see well mannered people who are caring, trustworthy, respectful, hygienic and ensure my safety. I cater to those Gentlemen who seek quality, not only quantity. ;) I provide a very personal service, select carefully and take only the best candidates. :)

How do you describe yourself?
Exotic by nature. I`m happy with myself, being in harmony. I attract people because I like people. New faces, new places and new happenings motivate me a lot because I like variety and excitements. As an adaptable person I get along well with just about everyone because I believe in tolerance. I always find the good in everybody and ignore the poorer qualities which we all have. :) In the right setting, I can be naughty and sweet, at the same time innocent and sophisticated with an air of mystery. You will be in the company of a smart and witty Lady.
Can you tell something about your background?
I was born and grew up in a Hungarian town. After finishing my studies, I became a primary school teacher for a short time. I was also married (was based on a big love) but we were too young to plan for children. With the demise of the communist system, I began to travel the world and had various jobs on my way such as an adult entertainer, tour guide, freelance writer, scuba dive assistant as well as a stewardess on luxury yachts. I finally decided to become an international escort because it allows me to continue travelling, experience new things and fulfil my needs. I soon found this role to be really stimulating as it offers me the opportunity to spend time with, and make happy some of the finest people in a myriad of different ways. I enjoy escorting and that is why spending time with me will never make you feel like a customer. Our time together will always be engaging and discreet, whether it's just for a short date or a long holiday.

Do you provide Girlfriend Experience?
Yes I do. As you have seen in the name of my website. ;) However, the term GFE is subjective because each date is a unique and individual experience. It is my intention to foster a unique and genuine partnership that leaves us eager to see one another again. I am a girlfriend of sorts without the complications of a traditional relationship. You can entrust your intimate secrets, your marital or professional concerns and hardships. I take a great pride in the escort service that I provide and in who I am. I eat and drink healthily, don`t smoke, nor do I engage in the use of drugs. I am immaculately presented (while not self-absorbed), I pay attention to the details. If you want peace of mind and uncompromising assurance, I'm definitely right for you. And if you are looking for a provider that may engage in unsafe practices, you can find it elsewhere. But always try to exercise good judgement because if a provider is unsafe with you, is unsafe with others too. :( Be safe and healthy, no price for that!

How will you be dressed for our meeting?
I will always be dressed impeccably in accordance with our meeting. If there is an outfit that you wish me to wear, please let me know what you have in mind. And if it is something more specific, bring it along or we could buy it together.
And if I can't give a notice of my cancellation on time?
In that case you will not just destroy my schedule, but also prevent other people from enjoying that period of time with me. And, in order to reschedule the date, you'll need to prepay the full tribute. Hopefully you can respect my conditions as well as other people's time.
What should I do if you don't respond to my email?
Please don't worry, I won't ignore you. I do respond to all my messages. But I am not always online. Besides, the internet isn`t perfect either, sometimes emails get lost. For security you can send important mails twice or resend it again later.
And what if you don´t show up after I have sent the deposit and your return ticket?
In every partnership there has to be a certain amount of trust. You have to trust that I will come as well as I have to trust that you will be there and be a complete Gentleman. I am here to meet fine people and provide a high-class service, not to deceive or get a bad reputation. Date me once and you will book me again. :)
Can we meet just for a drink to see if we are compatible?
Most certainly. Although the value of my time remains the same, therefore my minimum booking applies.
I wouldn't like to miss the opportunity to see you if I just have a few "unexpected" hours. What should I do then?
Call me up and if I can, I will see you. :) There is always a possibility that I may be available.

And what should I do if I can not afford to see you?
I'm sorry but if my companionship is not affordable to you then contact a more suitable person.
And if later on you can afford to meet me, I will gladly receive your request. :)
Can I get a reference about you from one of your previous clients?
Sorry, but not. The privacy of my partners is as important to me as yours and my own.
Why don't you have a Review Section?
Such a system is open to an abuse, it can be misleading. Besides, our date is very personal and nobody else's business. Therefore it shouldn't be submitted outsiders. Explicit reviews do not deliver discretion.

What are your dreams?
Become a better person, attain prosperity and find a good husband. I always make my goals a reality otherwise there is no point in dreaming... ;)
My life is fulfilling, I have almost everything I need, and I still strive for more - as happiness is a journey and not a destination.

Are you also interested in forming a serious long-term relationship?
Maybe one day I will find "my other half" among my clientele. But until that time, I aim to enjoy my life to the fullest.
And the philosophy I live by is always keep striving. Goals are check points, not finish lines.

Are you religious?
I`m not but I respect all religions.
And I like to visit churches, temples, mosques because they are all extremely beautiful and give me very special feelings.
Do you accept gifts?
Wow, you really know how to make a Lady feel special! :) Your generousity will be very much appreciated, however, it is not expected. If you still decide so, then the most useful gift would be your tip to help me maintaining my life-style and the savings to my old age. But if you really want to spoil me with an additional surprise, I would love to receive any of the followings (the most important ones are highligted). ;)
* dinnerware set or a jewellery from one of our Hungarian Porcelain factories of Hollohaza, Herend or Zsolnay
* perfumes with fresh, acerbic smell (like Eau de Sisley, DKNY, Jour d'Hermes, Jo Malone)
* organic cosmetics of Sisley, Shiseido, Kanebo, Omorovica, Clinique, L`Occitane,...
* designer pieces of our Hungarian Katti Zoob, Manier, Nanushka, Silka collections
* beautiful Hungarian folk art (Matyo or Kalocsa style) design clothing
* spa, gym or thermal bath gift certificates to stay fit & healthy! ;)
* Umo Gold Facial or Golden Skin 4 hours Care Gel
* sailing boat or a smaller yacht or a small jet
* long nipped-in whitish fur coat
* Monaco rising residence
* flowers for the Flower! :)
* large Rimova suitcase
* home music device
* white pearl sets
* art paintings
* seaside villa
* town car
* iMac

Can you recommend good sources to become a better person and be better lover?
BOOKS
* Paul Joannides: Guide to getting it on! The Universe`s coolest and most informative book about Sex for adults of all ages
* Rhonda Byrne: The Secret, The power and The Magic
* Gabriel Garcia Marquez: Love in the time of cholera
* Michel Desmarquet: Thiaoouba prophecy
* Antoine Saint Exupery: The little prince
* Alex Comfort : The Joy of Sex

MOVIES
* Closer
* Kinsey
* Chocolat
* Bitter moon
* Pretty Woman
* Cool Runnings
* Meet Joe Black
* The Bucket List

PLAY
* Georges Feydeau: Le Dindon
Is there anything else I need to know before we meet?
Yes, there are a few things would be nice if you could consider:
* First and foremost, the personal hygiene. I present myself immaculately and I expect the same from you too.
Be clean and tidy, otherwise you will be a real turn off - for everybody.
* I am healthy and completely disease free. Before we meet, please let me know if you are suffering from any kind of disease whether it is contagious or not. Please don't wait until I find it out myself.
* I expect to be treated like a Lady. You should treat me as you would expect other men to treat your female beloved ones because every woman is somebody's daughter, sister, mother or partner.
* If your conduct becomes un-becoming or I suspect that you are under the influence of drugs or such, I will have no choice but to leave you with no refund.
* I do not wish to ask for payment, kindly be prepared when we meet.
If you follow these simple considerations and act like a Gentleman, we will have a good time together. :)

If there is anything else you would like to know, please contact me. And I am looking forward to responding to your needs.